As one of the most versatile foam materials ever created, polyurethane foam is used in hundreds of products to provide comfort, support, protection and safety. Polyurethane Foam can be adapted to meet the Fire Retardant requirements of the government and military. There are currently several hundred formulations available to meet your needs.
Characterized by its light weight, resiliency, low odor and high resistance to mildew, polyurethane foam is used extensively in common consumer goods such as seating, flooring, and bedding products. These foams have consistent cell sizes that make them excellent absorbers and dampeners of sound and are easily laminated to films, pressure sensitive adhesives, corrugated, fabrics and other types of foams. Fabrication is easy with inexpensive tooling such as steel rule dies for die cut parts to patterns for contour and saw cut shapes.
Used regularly in medical packaging where abrasion resistance is required, this open-celled foam is typically used to protect lighter weight, delicate objects with high fragility and/or lower drop height maximums. Polyurethane foam provides excellent cushioning at a very reasonable cost and can be easily fabricated to fit your particular application. Polyurethane Foam is a resilient and flexible and can be made in an unlimited number of colors with densities from 1-6 pounds per cubic foot, and in compressions from very soft to semi rigid. It is available in two primary types, polyether and polyester.
Best of all, Polyurethane foams are inexpensive when compared to all the cushioning products available today.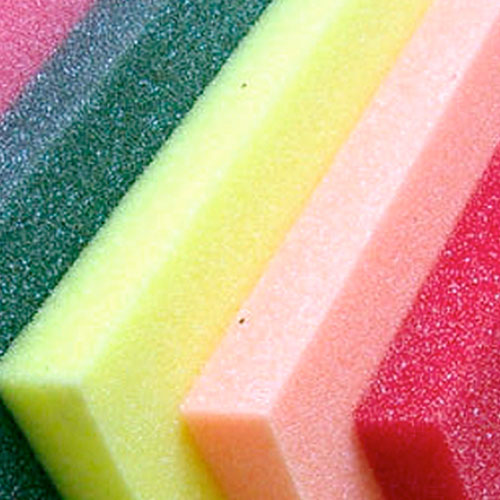 Automotive Seating
Furniture Cushions
Mattresses and Pillows
Display and Cushion Packaging
Filtration
Toys
Gaskets
Acoustical and Thermal
Insulation
Carpet Padding
Novelty Items
Mops and Sponges
Advertising
Retail and Promotional items
Anti-Static Grades
Fruit and Vegetable applications
Medical applications
Protective packaging
Full list of industries served
CHICAGO PLANT
655 Remington Boulevard
Bolingbrook, IL 60440
LOUISVILLE PLANT
7100 Trade Port Drive
Louisville, KY 40258