Extruded Polyethylene Profile
foam
Extruded Polyethylene Profile Foam is an environmentally friendly and extremely lightweight product that boasts excellent insulation and performance characteristics. The process of making high quality polyethylene foam begins with thermoplastic raw materials, colorants and additives. Adjustments are modified to create the desired density, structure and color, and to add beneficial characteristics like flame retardancy and UV-stability. When it comes to Custom Profiles, this is where we bring your specific needs to life.
Custom profile products are specially designed foam products that represent a broad range of categories: tubes, rods, planks and more and are produced on a customer-specific basis. These specialized shapes are extruded with a particular application in mind. Available in a wide range of colors, polyethylene foam can be formed into many shapes in a variety of densities, ranging from 2 pounds to 9 pounds per cubic foot, and can all be modified to suit most applications as needed. In tubing, it offers a full range of inside diameter choices from as small as 1/8″ I.D. to as large as 4-1/2″ I.D. and in various wall thicknesses, creating a tube to match your specification.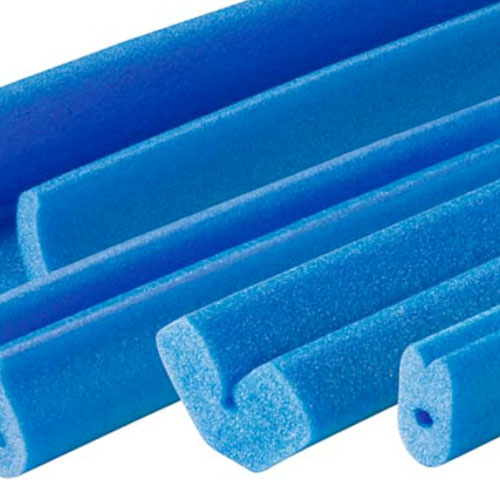 Polyethylene Foam Characteristics:
Closed Cell
Non-dusting
Very Lightweight
Excellent shock absorption and vibration dampening properties
Nonabrasive
Easy to fabricate
Impervious to mildew, mold, rot and bacteria
Superb strength a tear resistance
Flexibility
Resistant to water, chemicals solvents and grease
Odorless
Very cost-effective
CFC free
Excellent themal insulation properties
Excellent buoyancy
Full list of industries served
CHICAGO PLANT
655 Remington Boulevard
Bolingbrook, IL 60440
LOUISVILLE PLANT
7100 Trade Port Drive
Louisville, KY 40258